For Leagues and Open Play, you will want to sign up according to your rating for maximum enjoyment. How do you find what your rating is? Here's a handy chart for determining your level: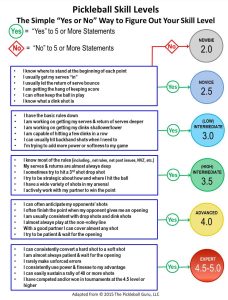 Please Note: Self rating at a level above 4.0 does not allow you access to restricted high level play events. You must be Lucky Shots rated to qualify for 4.25+ or 4.5+ restricted events. If you are unable to register for these events and would like to be evaluated for a Lucky Shots rating, contact our ratings team at Ratings@luckyshotspickleball.com.
Still not sure? Are you right on the border? Rank yourself lower – you can always move up!